Pharmaceutical Wholesaling Business
As our core business, Nakakita Yakuhin mediates pharmaceutical manufacturers and various healthcare institutions, including hospitals and pharmacies. We have formed the basis for a prompt and safe pharmaceutical supply-chain.
The sales division contains the following three groups:
Sales Departments – Ethical Drugs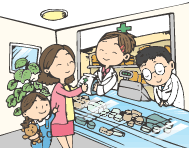 Departments in this group sell and deliver ethical drugs and provide information to hospitals, clinics, and dispensing pharmacies. Unique sales departments specialize in each clinical area such as obstetrics, gynecology, and ophthalmology.Within this structure, we aim to flexibly respond to market changes including the separation of dispensing and prescribing functions and the prevalence of generics.
Sales Departments – OTC Drugs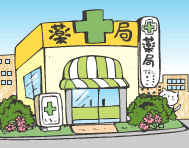 Departments in this group sell OTC pharmaceuticals/quasi-drugs and deliver them to pharmacies and drug-store chains. They rapidly catch on to market trends, provide portfolios that match the season, and support shop management.
Other Departments
Various other departments conduct sales activities that specialize in a healthcare-related area such as medical equipment. Nakakita Yakuhin's sales team responds individually to the various needs of customers.